We Believe Common Sense Works!
During the COVID pandemic many people learned the importance for a healthy immune system. Sadly many learned just how weak their health foundation was. Trying to develop a healthy immune system in the middle of a pandemic may be difficult at best
Common sense tells us you need to build a solid foundation first.  The human body just like a house needs a study foundation.  The body needs basic building blocks and prioritizes nutrition on where it is needed most. If basic needs are not met, there won't be any reserves available in an emergency such as a pandemic, and the foundation crumbles.
In 2002 AMA acknowledged most people are nutrient deficient. Over 70% of the American diet is processed & the consumption of fast food has risen by 2000% in the last 40 years. Nine out of 10 people aren't getting the daily recommended vitamins & minerals. As a nation we are undernourished and overfed. The AMA acknowledges that supplementation can fill in the gap of our dietary shortfalls.  If that is the case doesn't it make sense to use supplements? Isn't it also common sense to use the best quality supplements available?
It is proven that the following diseases are preventable with proper nutrition & supplementation.
80% cardiovascular disease in women
60% of cancer related deaths
90% of Type 2 diabetes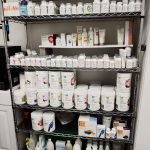 We offer products that provide the building blocks a healthy body needs.  In addition we provide health coaching and education in person, by phone, or virtually to promote health in order to achieve wellness and design a plan that will addresses your needs.  We also offer convenient online ordering for the products we offer.  Now is the time to address the nutritional gaps that lead to chronic illnesses and disease. While nobody can predict the future, common sense tells you it is wise to make sure you are prepared no matter what.
Office hours are Tuesdays & Wednesdays from 9 AM to 4 PM and Thursdays 8 AM to 5 PM.   If you have questions call us at 716-560-0896, or email us at sharon@pathfinderstba.com